Primavera Unifier transaction and collaboration functions are driven by business processes. Information is entered and stored in Primavera Unifier using electronic business process (BP) forms.
Each time you fill out a business process form, you are creating a new record in Unifier.
Business process records are stored in logs, which are accessible in the Navigator. You can think of these logs as filing cabinets, with each drawer storing a different type of business process.
Business processes can be associated with specific projects or shells (project- or shell-level BPs) or can be applicable for the entire company (company-level BPs).
Primavera uDesigner is a great tool that provides a quick and easy way to design business process forms. In this edition of the PrescienceAdvantage® Tips & Tricks, we will demonstrate how to build a simple Primavera Unifier business process using uDesigner. Logic can also be added to forms to create BPs with workflows, which we will demonstrate in the next edition of the Prescience Advantage® Tips & Tricks.
Before you start…
Important pre-requisites:
In order to use uDesigner, you should:
Have a good understanding of the business process.
Have a complete understanding of the data structure setup (e.g. data definition and data elements).
Ensure the required data elements are created.
(i)  The example below is for Oracle Unifier Version 16.2.
Creating the Business Process
1. Login to Unifier and navigate to Company Workspace > Admin Mode > uDesigner > Business processes.
2. Go to File > New > Simple.
3. Define the details according to your requirements.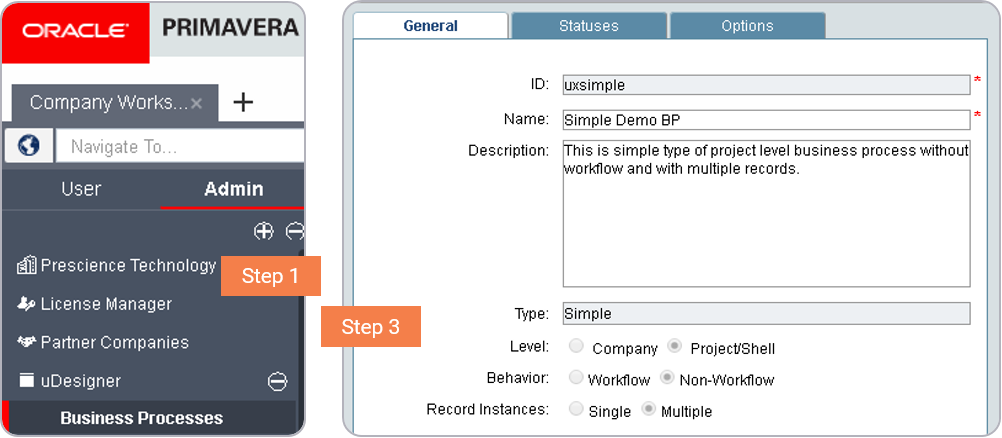 4. Define the statuses for the business process.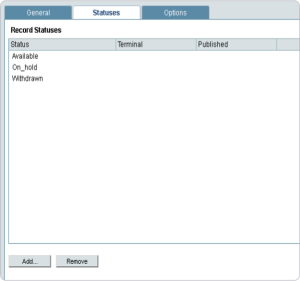 5. Create the Upper Form.

6. Open the newly created Upper Form. By default, it will appear the same as the example on the right. Define the Tab Name, in this example, "General".
 …Subscribe to our Tips & Tricks Newsletter for the entire tip.