Recently, readers have asked us about the differences between some of the Oracle Primavera products. This month, we touch on this subject by focussing on Oracle Primavera Prime and Primavera Unifier. We'll discuss the uses of these applications, the differences between them, list the top features of each, and help you determine whether you are using the right tool for your needs.
What is Primavera Prime?
Oracle Primavera Prime is a cloud-based enterprise solution which allows you to prioritise, plan, manage, and execute projects, programs, and portfolios on a global scale.
The Fast 5: Prime Features
Integrated project and portfolio management: Create multiple portfolios to analyse projects and proposals and analyse project portfolio activity, status, and customer success metrics.
Flexible workflow and collaboration: Address simple and complex business needs with configurable forms and workflow processes and improve coordination between project members with a flexible collaboration system.
Cloud based: Prime is a pure cloud application, which enhances your team-wide accessibility and delivers significant IT infrastructure savings.
Integrated platform: Deliver scope, schedule, and cost capabilities and integrate resource, risk, and document management under a single platform.
Mobility: Access project data on the go and improve collaboration with built-in notifications and discussion capabilities.
What is Primavera Unifier?
Oracle Primavera Unifier a Web-based Project Controls Management Solution. Its defining quality is its ability to optimise business processes by creating visibility to enable customers to better manage all of the communications and information required to successfully manage a project. It is best seen as a Contract Management solution.
The Fast 5: Unifier Features
Project cost control and cash flow management: Manage complex cost breakdown structures and business rules, with either hard-stop or advisory enforcement and Track baseline budgets, actual costs, and manage forecasts either manually or automatically
Contract management: Manage all contract types (lump sum, T&M, cost plus, others) at virtually unlimited level of detail
Schedule management: Manage schedule activities with fully configurable metadata at the activity and resource level
Design Coordination: Maintain latest basis of design documents with revision control and manage design reviews across all disciplines with rich commenting capabilities
Document Management: Full-featured document management capabilities embedded within the cost control system and revision control, check in / out, commenting, and full audit logs of all activities
How do you know you are using the right application?
Depending on how robust your planning functions are, you may be able to extract greater benefit from a simpler 'one stop' solution. We have put together a simplified flow chart to help you confirm that you are using the right planning application for your needs.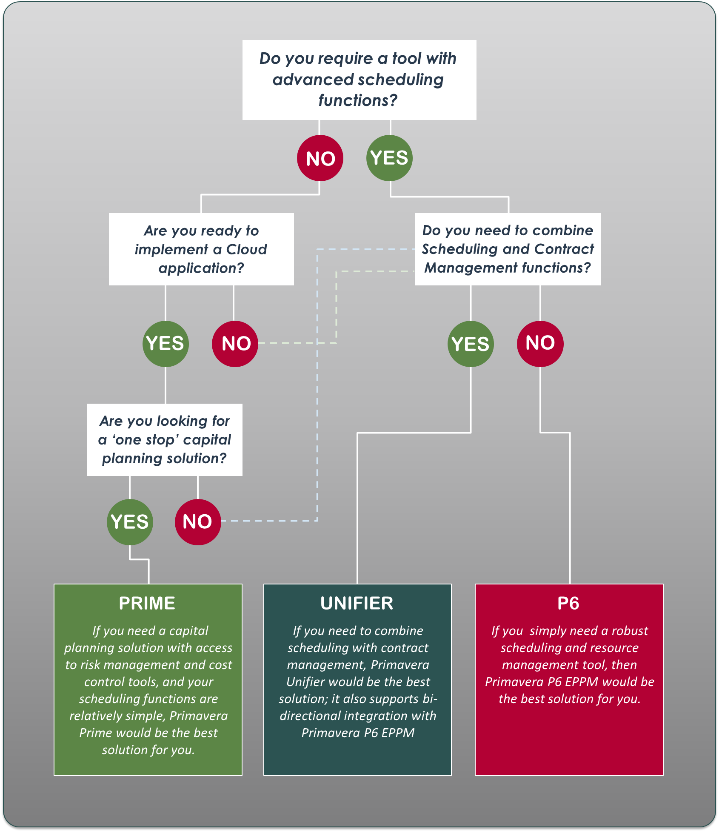 __________________________________________________________________________________________________
…JOIN PRESCIENCEADVANTAGE® PRIMAVERA SUPPORT
A PrescienceAdvantage® Primavera Support agreement is flexible, scalable and value driven. It offers functional and technical Oracle Primavera assistance, delivered remotely or on-site. Find out more about setting up a Support Agreement for your site, or call us on 1300 086 816.