Wondering how to use Primavera P6 more efficiently? We've compiled some of our favourite time-saving tips that web believe will benefit all our support clients and P6 schedulers by improving their productivity and saving time.
Note: These tips are relevant for Primavera P6 R8.x onwards.
Fill Down
A great P6 time-saving function is the use of the Fill Down feature, to quickly enter the same text in successive rows in some display columns.
1. Click the cell value that you want to use to populate other cells.
2. Select other cells in the same column to change them to the new value by using either Shift-click or Ctrl-click. (The original cell to be copied must remain highlighted).
3. Right click and choose Fill Down. All the highlighted cells will be populated with the first selected value.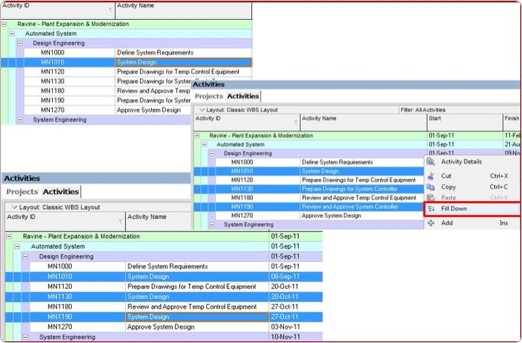 Note: Some fields cannot be filled down i.e. Calculated fields such as Earned Value, Activity ID, Resource ID, Cost Account, Cost Account ID, etc. and will have the Fill Down option greyed out.
The rows you select to copy to, can be next to each other or not directly adjacent.
The Fill Down feature can also be used to copy text to rows above the first row you select. The text will always be copied from the first row you select to the subsequent rows you select. Select multiple rows by pressing the Ctrl key as you click each row you want to copy to.
Progress Spotlight
A quick method of highlighting activities that should have started or finished during a specified period is the Progress Spotlight feature. To access this feature, choose View, Progress Spotlight, or click on the Tools toolbar. You can also drag the data date line until you reach the new date you want. P6 highlights the activities that fall between the last data date and the new data date. Once you spotlight activities, you can automatically status them or manually update them.

Note: If multiple projects are open, P6 Professional will highlight activities from the data date of the default project (Project, Set Default Project).
Unlike selected activities, when Progress Spotlight is active, activities remain spotlighted even when you click in another area of the layout.
… Subscribe to our PrescienceAdvantage® Tips & Tricks Newsletter for the entire article.