Oracle has continued their emerging trend of releasing new Primavera software in the height of holiday excitement, with the release of Oracle Primavera P6 EPPM Release 8.3 on Friday 29th March, 2013.  While this release slipped quietly into General Availability on a day that many (at least in Australia) were celebrating with Good Friday BBQs and family time, the prior release (Primavera P6 R8.2) was released in a similar manner just after Christmas in 2011.
So, all curious release date questions aside … the real question on all of our minds is "in just under 18 months of development and with the intervening acquisitions of Skire and Instantis, as well as the closer alignment with Crystal Ball, what exactly can we expect from Release 8.3?".
Release 8.3 offers many new features and a number of welcome enhancements to both Primavera P6 EPPM (web client) and Primavera P6 Professional client. This article provides an overview of the new features, and some insight into our perceived highlights of this latest version of Oracle Primavera's staple product.  Finally, and in typical Prescience Technology form, we will offer up for discussion (and vigorous debate, no doubt) what we consider to be the winning feature of this latest release from Redwood Shores.
We'll report back on the product installation and upgrade process once we have completed our roadtesting of the New Features of Primavera P6 EPPM R8.3 – and give you a view of whether our upfront predictions on the best new features of R8.3 were, in fact, as good (or better!) than we had hoped.
What's new in Primavera P6 EPPM 8.3?
Release 8.3 offers many new features and welcome enhancements, which include:
a new component called Primavera Visualizer
updates to the Team Member Web application (this was new in R8.2, remember?)
enhancements to XML Import/Export capability
enhancements to usability and adoption features.
We have also created a new section in this document to highlight the changes in the P6 Professional product. We have a large number of clients who still use the Professional client and we're hoping that this will make it easier than searching through this document (or, even worse, the application) trying to identify them yourself!
And finally, we have included a section on a new integration product also released by Oracle on 29th March, called Primavera Gateway. You can also view Oracle's data sheet on Primavera Gateway from our website. This one has been a long time coming, so we would have been remiss to exclude it from this summary.
So … let's get started!
Primavera Visualizer
Visualizer is a new feature that supports far more powerful and graphical reporting than we have seen in Oracle Primavera previously.  The new Visualizer feature replaces the time scaled logic diagram (TSLD) feature that was introduced in P6 R8, and has been further expanded to include Gantt charts. From our early review, we believe that the capabilities of Visualizer, coupled with the recent release of Primavera Analytics 3.1, will prove to be one of the most popular new features of R8.3.
The inclusion of Visualizer in both the EPPM and Professional interfaces reinforces Oracle's commitment to the professional interface, though it is also interesting that it remains a standalone (or desktop) solution, irrespective of the license it is packaged into. We have every reason to believe that this level of graphical reporting will also be introduced into the web interface, with time. In the meantime, Visualizer is a desktop application that can be launched either from within P6 Professional or from the computer's start menu. It has a direct connection to the P6 database and provides live access to all P6 projects.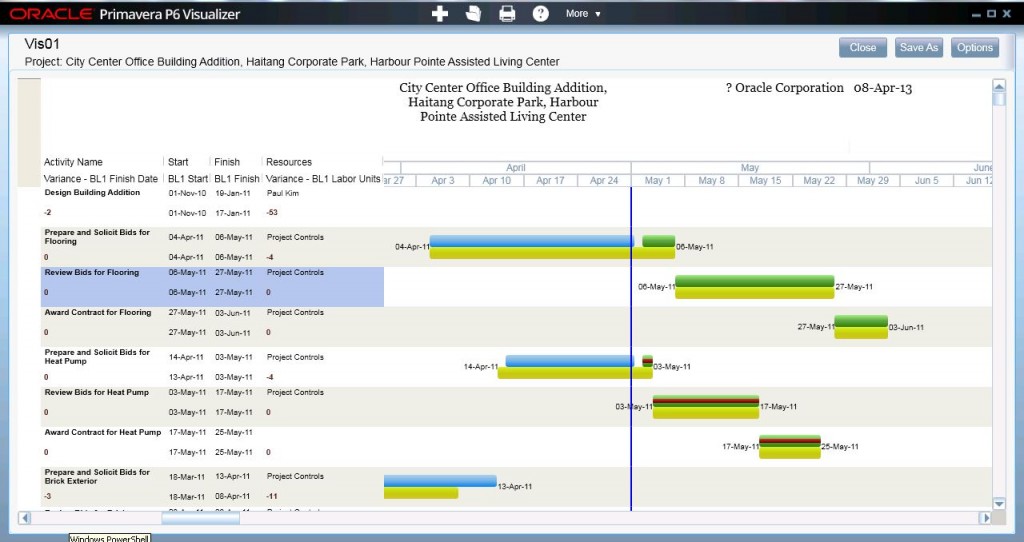 In addition to P6 Professional's standard graphical features, Visualizer enables a user to:
stack columns and use word wrapping in the Gantt chart
use notebook topics or a list of steps as a bar label or as a field in the activity table
apply various fonts to individual labels and fields
colour-code and apply different shapes for bars and endpoints
draw bars on top of each other, for example, to show critical highlighting
create a layout in Visualizer with options, such as filter, group, and sort criteria, to customize the Gantt chart or TSLD.
You can also view Oracle's data sheet on Primavera Visualizer from our website.
Team Member Web Application
This tool (which was new in Release 8.2) provides the ability to update activities, steps and related activity statuses without the team member having to learn the full complexity of the Primavera P6 EPPM application. This has proven to be, as per our original predictions on R8.2 (released in January 2012), a popular function particularly with customers using earned value systems where good, objective progress reporting is critical.
Improvements in this release include enhancements to:
work distribution filters
discussions (almost like an instant messaging capability between Team Members)
task filtering
adding, deleting and updating steps
increase on the number of activity codes and UDF's that can be displayed (increased from five in previous versions to 20 in R8.3)
activity notebook topics
viewing documents
email enhancements (including push capability, welcome email and star-filtering)
usability improvements (cannot set date in future, milestone support for primary users)
addition of new provisioning options to increase auditability through Team Member application
additional language support for French, German, Japanese and Chinese (simplified).
Although we were hoping that an Android version of the Team Member Application would be available in R8.3, to complement the iPhone app already available, the Android app is now expected to be delivered later this calendar year.
XML Import and Export Enhancements
Interestingly, the improvements in R8.3 are an excellent build on some of the XML import foundations set in R8.2 (which were based primarily on increased integration capability with MS Project).  As you will all be aware, one of the key issues created through the import / export process, historically, is the potential for both pollution and corruption of global data.
The primary benefit of the changes introduced in R8.3 is the virtual elimination of the need for third party "cleansing tools". For the sake of sanity and security, I'm not sure for large programs I would be quite sure enough of it yet to eliminate staging databases completely (they are used for many reasons other than just data hygiene) – but with this version Oracle is most definitely heading in that direction as well. This version does close the gap, however, between XML and the more conventional (at least in the Primavera world) XER file, with the support (in XML) of all of the features supported by the P6 Professional XER format e.g. constraining of external relationships during import, inclusion of Price/Unit in resource assignments, import of Past Period Actuals.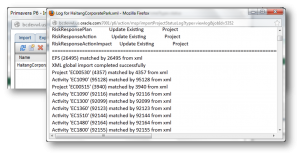 Some of the improvements include:
backwards compatibility of XML file exchange all the way back to P6 R6.2 SP4 (this is exciting, though I'm sure some of our P3 loyalists would like it to go back even further!)
ability to import / export multiple projects simultaneously, to a single output file
improved import of global codes, UDF's, resource codes and calendars, whereby the codes move to project level, map to existing values and can be renamed/ignored on import.  In the case of resources, they can be mapped to a specific area in the resource hierarchy
increased re-usability, with the introduction of the ability to create import templates
increased security on import, to prevent the import of data to which the importing user does not have access rights
improved logging of import progress and exception logging (we're yet to test the extent of the exception handling logic, vs just the logging, we're hoping this might be a "hidden feature" that Oracle is just waiting for us to find!).
P6 8.3 EPPM Usability and Adoption Enhancements
There have been a number of enhancements to improve ease of use and workflow, including but not limited to:
setting a default start page
renaming columns
viewing the hierarchy for activity, project and resource
sorting on multiple columns
new Relationships detail window on activities
document support in Progress Reporter
improved printing from the EPS and Activities pages, including rolling date support and WYSIWYG
additional baseline fields
assign multiple resources, roles, predecessors or successors at one time on the Activities page
find and replace function in Activities, EPS and Assignments screen
copy activity options
discussion feature
improved filtering options.
Changes to Primavera P6 Professional 8.3
The Primavera P6 Professional client has enjoyed a few enhancements of its own, though not nearly as extensive as P6 EPPM. This is disappointing for the to-date loyal Professional user community, and is indicative of the overarching investment Oracle is making in driving further suitability and uptake of the EPPM features.
Of the limited changes to P6 Professional, though, one of the key changes, as stated previously in this review, is the availability of Primavera Visualizer in the R8.3 Professional license package (i.e. Visualizer is not limited to the EPPM license package alone).  See the section of this paper on Primavera Visualizer for more detail.
Other improvements to the Professional client, also talked about elsewhere in this document, include:
improvements to XML import / export
ability to load resource summary data on startup
online HTML help
integration with Primavera Unifier, via the Unifier tab in Project Details.
Primavera Gateway
Primavera Gateway is a new, java based integration framework for Oracle Primavera, compatible with R8.2 and R8.3, which facilitates (in Oracle's own words) "enterprise-wide project, portfolio and resource management transparency".  Our interpretation is that Primavera Gateway replaces the Primavera API's of old and, given that Oracle Primavera has had some challenges with integration in recent releases, this is one area we are looking to "road test in anger" over the next few weeks. From everything we're hearing, it will handle well on corners (!) … but stay tuned for our verdict.
Key features of Primavera Gateway include:
standard Java Web Application
seeded data maps and flows to support industry best practices
bidirectional data flow between Primavera and typical ERP / Asset Management solutions
manual and automatic data synchronisation

In-built Scheduler
Monitoring and data logging

reporting of project parameters across applications.
We are, of course, wildly excited about the potential that Primavera Gateway offers and we do look forward to bringing more news of this brand new release from Oracle to the table.
The Winning Feature
It is at this point that we become somewhat controversial, even within our own ranks, as there is some debate as to THE winning feature in Release 8.3. I would suggest this could be boiled down to a right-brain, left-brain thing (!), but we're going to offer up two options and let our road testing tell us the answer.  For those of you who aren't so familiar with the right-brain left-brain theory – the right brain is theorized to be the visual side of the brain, whilst the left brain is the sequential and analytical side of the brain.
The "Right-Brain" Winning Feature
In our opinion the winning feature in this release is Primavera Visualizer.
With this feature, Oracle has answered many users' demands for more powerful, effective and graphical reporting. Project schedules, as we all know, include large volumes of data and graphical reports are a critical analysis tool, with the ability to present a single view summary of an entire project.
We believe this feature will be of significant benefit to schedulers, planners, project managers and above – and will drive greater ROI on projects through improved communication.
The "Left-Brain" Winning Feature
In our opinion the winning feature of this release is the inclusion of the suite of enhancements to the XML import/export functionality.
Our premise for this statement is that data quality and integrity are fundamental to the maintenance of a high quality schedule and poor discipline or tools to support these elements can have a potentially significant effect on overall program and project performance.
We have been involved in a large number of "schedule cleanup" activities which consume valuable time and effort, and if avoided would allow the project office team to focus on far higher value activities, such as detailed schedule and EV analysis.
So, what are your thoughts?
Overall, we have found this to be an exciting release and one which we will look forward to pressure testing in more detail in the coming weeks and months, and providing further insights on, at that time.  We invite your comments on The Winning Feature of R8.3 on our Facebook page and look forward to continuing the debate there.
For a more detailed view of what's new in Release 8.3, which features will be relevant for your organization and how to achieve a low-risk upgrade of your existing Primavera application, contact [email protected].