Oracle has released the latest version of Primavera P6 this week. P6 R17 delivers significant improvements on R16. Enhancements in functionality will help organisations create schedules more seamlessly and deliver projects on time and within scope.
The P6 experts at Prescience Technology road-tested the new release to assess the new features and enhanced functionality. We have ranked and reviewed the most significant new features to help you understand what each enhancement will mean for your organisation. Download our free eGuide for a full overview of each new feature.
1. Administration Tab Replaces Administer Menu

Feature Description
Application Settings, Enterprise Data, Scheduled Services, User Administration, and User Interface Views are now accessible from the Administration Tab. Access to this Tab is controlled via User Interface Views and security privileges. The Administer menu has not been completely removed, but has been modified with a streamlined User Menu, providing access to My Preferences, Service Status, User Sessions, and Logout.
Why is it an Improvement?
This change is primarily an improvement to the user experience. The Administration tab provides these important functions with a more visible presence, simplifies the navigation and improves general workflow.
Feature in Action
See snapshots of the updated Administration tab and Administer menu below.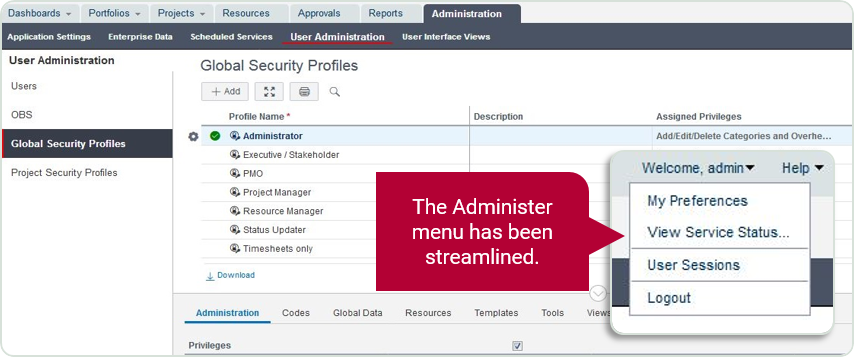 2. Capability to Disable Java-based Applets

Feature Description
A great new feature in P6 R17 allows users to disable applets, thereby choosing to only access the faster loading HTML5-based pages. If their profile allows it, users can nominate to disable applets altogether in Application Settings. Applets for specific user profiles or views can also be disabled in User Interface Views, and administrators can switch off applets globally for all P6 EPPM users.
When applets are disabled, the following functionality will no longer be available:
Portfolios
Risk Management (Projects Tab and Dashboard Portlet)
Resource Planning (Resources Tab)
Workspaces (Projects Tab)
Why is it an Improvement?
Support forums are full of users encountering Java-related issues in P6, ranging from outdated Java versions to crashes and the wrong combination of Java version and browser. Disabling Java-based applets is useful for preventing Java-related issues. The feature is also scalable – an applet setting in Application Settings affects all users, while a setting for User Interface Views allows you to assign different access to different users.
Feature in Action
See snapshots of the different options for disabling Java-based Applets below.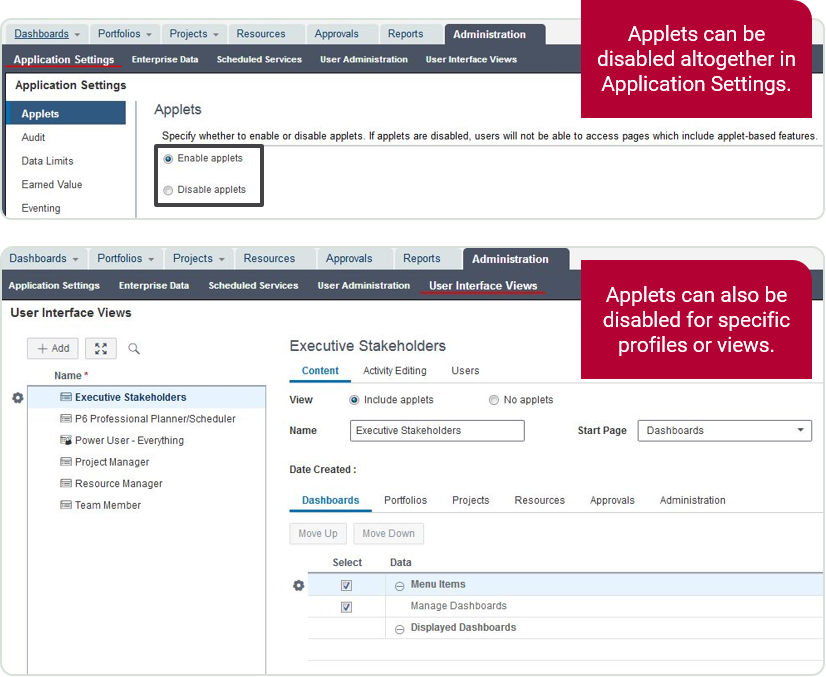 3. Check out P6 Professional Project to Local SQLite Database
Feature Description
P6 R17 adds the functionality to check out a P6 Professional project to your local SQLite database. This will allow you to check out a project and work on it from your local standalone database. The standalone SQLite database is embedded with P6 Professional and does not require any additional installation or setup.
Why is it an Improvement?
This will lead to improved performance for data-intensive projects and also means you will be able to work on the project when not connected to the EPPM/Cloud. When your work is complete, check the project back in and your changes will be written to the EPPM/Cloud.
To Access this Feature:
Select File > Check Out and choose projects to export > select "Check out to P6 Pro Local Database' > open the newly created SQLite database and update projects. To check the project back in, open P6 EPPM Database and select File > Check In > select "Check in from P6 Pro local database".
Feature in Action
See snapshots of the Check In/ Check Out process below.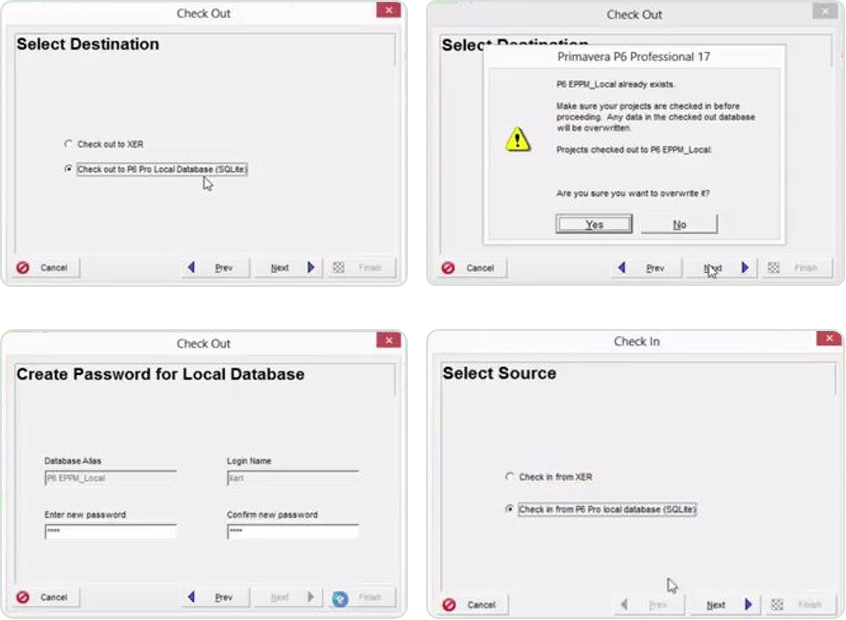 Download eGuide
Download the free eGuide
Download our eGuide to help you understand what each enhancement will mean for your organisation.
Download eGuide