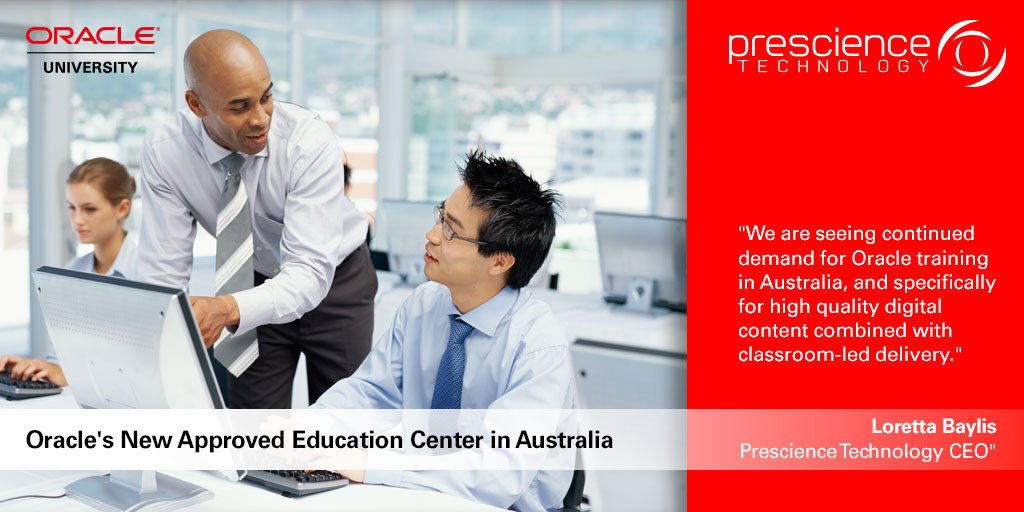 Australian IT services provider Prescience Technology strengthens training presence across Australia through work with Oracle University
Oracle announced today that it has appointed Prescience Technology as an Oracle Approved Education Reseller (OAER) and an Oracle Approved Education Center (OAEC) in Australia. Prescience Technology, the end-to-end IT services provider, will offer training for Oracle's complete suite of integrated cloud and platform services. The appointment augments Prescience Technology's already significant suite of Oracle Primavera and project management and systems training to include all Oracle applications in any industry.
Oracle University is one of the largest corporate training organizations in the world, advancing thousands of careers with high-level Oracle training provided in a variety of formats. Oracle Approved Education Resellers are organizations which have been carefully selected to resell Oracle's education products and training, while Oracle Approved Education Centers are establishments endorsed to deliver Oracle University's full range of classroom-based, instructor-led training courses and solutions.
Prescience Technology – a long-established Platinum member of Oracle PartnerNetwork (OPN) – provides program and project management, training services, and technology solutions to support large capital-intensive projects. Operating across Australia, it combines Oracle expertise and industry experience with disciplined project management techniques to deliver high quality business and project outcomes.
Prescience Technology CEO Loretta Bayliss said the appointment demonstrates Oracle University's faith in the company's commitment to delivering world-class training and professional services, and makes Prescience Technology the first Oracle Approved Education Center with a national presence across Australia.
"We are seeing continued demand for Oracle training in Australia, and specifically for high quality digital content combined with classroom-led delivery," she said. "The enhanced Oracle relationship strengthens our reputation as delivery experts and increases our capacity to deliver Oracle course materials across products and services including core technology, cloud, ERP, CRM, HR payroll, and enterprise project management."
The augmented relationship aligns with Prescience Technology and Oracle University's mission to ensure that customers receive high quality and effective training on Oracle Technologies.
"By offering the full range of Oracle training products and services, Prescience Technology will play an increasingly important role in Oracle implementations throughout Australia," said Siew-Sang Goh, Vice President Oracle University APAC. "The new cooperation can help to consolidate Oracle's brand nationwide and significantly boost our customers' success."
---
ABOUT PRESCIENCE TECHNOLOGY
Prescience Technology is the most experienced Oracle and Primavera consulting firm in Australia. Headquartered in Brisbane and operating across Australia, we provide Program and Project Management, Oracle, Primavera and Training services to support large, capital-intensive projects.
ABOUT ORACLE
Oracle offers a comprehensive and fully integrated stack of cloud applications and platform services. For more information about Oracle (NYSE:ORCL), visit oracle.com.
Trademarks
Oracle and Java are registered trademarks of Oracle and/or its affiliates. Other names may be trademarks of their respective owners.