Just like Project Codes and Activity Codes, Primavera P6 provides Resource Codes that allow you to organise, group, sort, and filter resources.  Resource Codes also allow you to group and sort in the Resource Assignments and Resource Profile views to give you a better understanding of your resources' allocation. In this update we look at these codes that often go unused in most scheduling methods.
Creating a Resource Code
We'll start by showing you how to create a Resource Code in P6 which we will call "Manager" and a Code Value for it called "PM".
Click on Administer, Enterprise Data in the menu bar, and choose Resource Codes.
Click on the Add Code icon.
Type the New Resource Code name "Manager".
Click on the Add Code Value button, to add PM to the Manager Resource Code and a description. You may add as many Code Values as you wish.
Click on Save in the resource code window to save your changes.
Assign Resource Code Values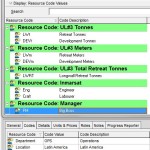 You can assign code values to resources using the Codes tab in Resource Details or by creating resource code columns in the Resources window and then assigning values in the columns.
To use the Codes tab, click the Display Options bar and choose Details (the box next to the Details command should be marked). Click the Codes tab, then Assign.
To use columns, click the Display Options bar, then choose Columns, Customize, and add one or more resource code columns.
A resource usage profile can also be grouped by Resource Codes. This allows the user to click on, for example, the manager's name in the profile and see a rollup of all of the limits for the resource under that manager's name. This view is useful for creating a great capacity planning report. These views can be accessed via the Resource page under Resource Usage or via the Activities page by selecting the Resource Usage Profile tab.
Group and Summarise Using Resource Codes
Another neat tip is to use Resource Codes for grouping and sorting in Resource Assignments. In a Resource Assignment layout, click the "Group and Sort By" tab. Grouping by Resource Codes enables you to quickly see the activities that are assigned to a particular area of responsibility or that are being performed by a specific group throughout your organisation. Click a group band to see a summary or rollup of a particular group.
---
JOIN PRESCIENCEADVANTAGE® PRIMAVERA SUPPORT
A PrescienceAdvantage® Primavera Support agreement is flexible, scalable and value driven. It offers functional and technical Oracle Primavera assistance, delivered remotely or on-site. Find out more about setting up a Support Agreement for your site, or call us on 1300 086 816.