What is a responsible manager that is assigned to a project? You are a program manager reviewing portfolio performance data and you see that many issues are assigned to a "responsible manager", and need to set an Organization Breakdown Structure to combine with the Enterprise Project Structure. All these questions are very relevant in common scheduling and provide the ability to assign various viewing rights and privileges to managers and planners. In this newsletter we will endeavour to provide clarity on this issue.
RESPONSIBLE MANAGERS
The Organizational Breakdown Structure (OBS) is a hierarchical based structure that represents your organization. The Enterprise Project Structure (EPS) is also a hierarchical based structure that represents how your projects are organized.
The OBS and EPS are combined together through the responsible manager field on the EPS structure, project folder and Work Break Structure (WBS) level. The Responsible Manager field is the OBS and this determines what users can gain access to the Project. When you create a user, you have to give them Responsible Manager assignments in order for them to access projects.
EPS and OBS need to have a one-to-one relationship. If you give a user a Responsible Manager assignment (OBS) that is not tied to an EPS, Project or WBS level, they will not see any projects when they log into P6 Professional and P6 Web.
PROJECT ACCESS
Project access and security privileges are determined by a combination of Responsible Manager/OBS assignment(s), Project Security profile assignment(s) and where the assignments fall within the EPS structure.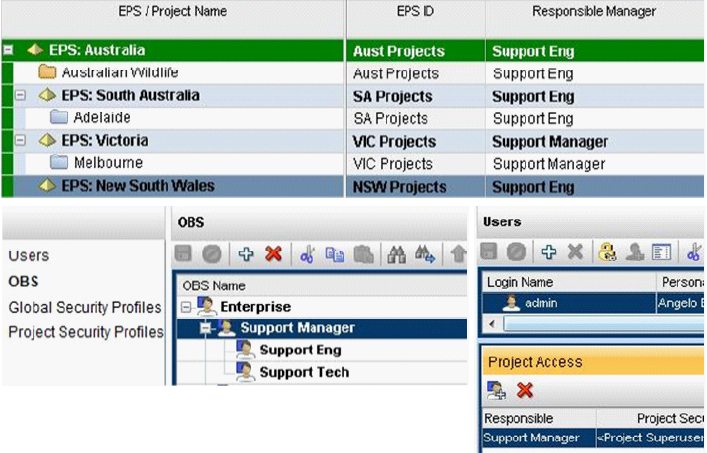 ---
…JOIN PRESCIENCEADVANTAGE® PRIMAVERA SUPPORT
A PrescienceAdvantage® Primavera Support agreement is flexible, scalable and value driven. It offers functional and technical Oracle Primavera assistance, delivered remotely or on-site. Find out more about setting up a Support Agreement for your site, or call us on 1300 086 816.