Have you ever been challenged by projects and schedules that change, sometimes significantly, from the way they were initially planned and scheduled?
We have seen a lot of projects, and in our collective memory, struggle to remember a single one that was not tested by such changes, at some point in its history. This creates a specific challenge for Primavera users, as making changes to P6 activity IDs after they are already allocated can be a painful and time consuming process. For example, suppose you have activity IDs AB100, AB130, AB150, AB160, and AB180 and you want to change and renumber them to CD500, CD530, CD550, CD560, and CD580 or you may have added scope (additional activities) and want the activity IDs renumbered in a numerical order. Doing this manually one-at-a-time is inefficient and can be prone to errors.
This month we look at the "Renumber IDs" feature in Oracle Primavera P6 and how it can save you time and effort.
Using the 'Renumber Activity IDs' Dialog Box
You can use the Renumber Activity IDs dialog box (found by selecting > Edit > Renumber Activity IDs.) to specify how to renumber the selected activities in your current project and, if applicable, to renumber the same activity IDs in all applicable baselines for the same project. The selected activities can have the activity IDs renumbered based on values you specify for example.
Increment Activity Based on Selected Activities: Select to increment activity IDs using the increment value you specify.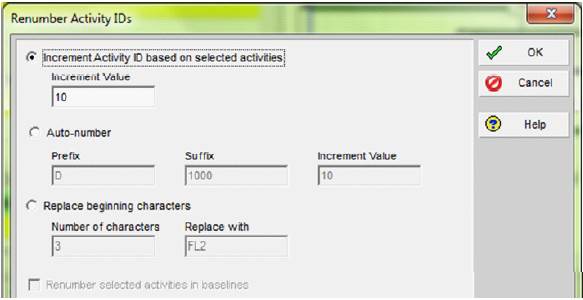 ---
…JOIN PRESCIENCEADVANTAGE® PRIMAVERA SUPPORT
A PrescienceAdvantage® Primavera Support agreement is flexible, scalable and value driven. It offers functional and technical Oracle Primavera assistance, delivered remotely or on-site. Find out more about setting up a Support Agreement for your site, or call us on 1300 086 816.