Last month we looked at 'Printing Activity Layouts' and tips to assist with the tailoring of the information printed. This month we cover updating a baseline, and after saving a baseline, being able to see the baseline bar against current project bars if your activity layout setting is right.
Project planners can view project performance very quickly and easily against the original baseline by reviewing graphical Gantt chart that shows baseline and current project bars.
Baselines are a complete copy of an original schedule that does not change even when the current schedule is updated. We can use these unchanging schedules as a benchmark to note changes to later schedules after updates and modification have been made.
This is why we have the Update Baseline Function.
Top Tip #1: Updating the Baseline
Once progress has been applied to the schedule and an appropriate Baseline Schedule from the past is available; one can update an existing Baseline Schedule. Proper use of the 'Update Baseline Utility' gives you the ability to effectively and efficiently evaluate the impact of progress versus non-progress revisions between schedule updates.
How To:
'Updating the Baseline' is available in P6 client V.5 and later.
Step 1: In the Menu bar, click on the 'Project' tab, select 'Maintain Baselines' and choose the baseline that will be updated. Click on 'Update' tab.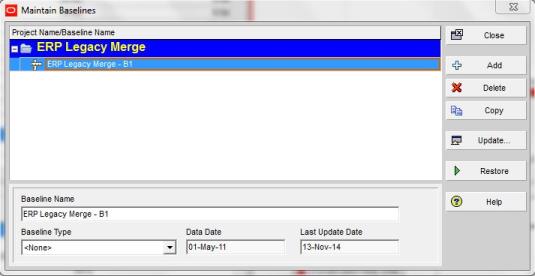 Step 2: When the 'Update Baseline' screen appears, select the options required, and click on the run 'Update' tab to perform the update.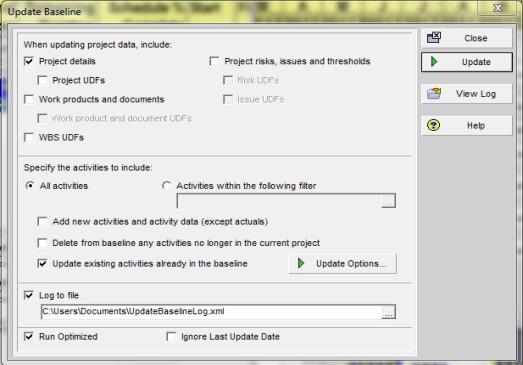 ---
…JOIN PRESCIENCEADVANTAGE® PRIMAVERA SUPPORT
A PrescienceAdvantage® Primavera Support agreement is flexible, scalable and value driven. It offers functional and technical Oracle Primavera assistance, delivered remotely or on-site. Find out more about setting up a Support Agreement for your site, or call us on 1300 086 816.