Last month we discussed 'Updating and saving a baseline', and then being able to compare the baseline bar against Current Project Bars by using Activity Layout settings.
This month we conclude our topic on baselines with a brief discussion on how to display variances between a project and any baselines assigned to that project within Oracle Primavera P6.
Top Tip #1: Reporting on Project Variance
Variance reporting in Oracle Primavera P6 requires that the project has a baseline and it is assigned as either a Project Baseline or a Primary Baseline.
Baselines are assigned using the Assign Baselines… menu option under the Project Menu.
The menu allows a baseline to be as signed as a Project Baseline and up to three existing user baselines which are known as Primary, Secondary or Tertiary baseline.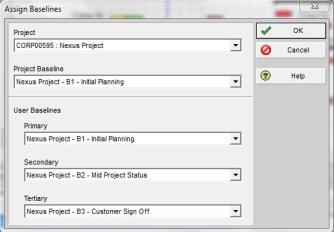 With a baseline in place it is possible to report any activity that has moved away from its baseline date in the current project schedule.
---
…JOIN PRESCIENCEADVANTAGE® PRIMAVERA SUPPORT
A PrescienceAdvantage® Primavera Support agreement is flexible, scalable and value driven. It offers functional and technical Oracle Primavera assistance, delivered remotely or on-site. Find out more about setting up a Support Agreement for your site, or call us on 1300 086 816.