Last month we discussed Displaying Variance to Approved Baselines, and then being able to compare the Baseline Bar against current project bars by using Activity Layout settings.
This month, we move into looking at some Scheduling Techniques such as Scheduling Options available in Oracle Primavera P6 and the first option we will look at this month is the Retained Logic compared to Progress Override.
Top Tip #1: Using Progress Override to schedule work out of sequence
We all know that project execution does not always go as planned. Sometimes it is necessary to start work before preceding activities are completed, for example, installation of a piece of equipment which follows the completion of painting of minor carpentry. Perhaps the resources planned to do the work are not available on the 'Planned date', however can complete the work earlier.
The Progress Override within Primavera P6's setting allows the Scheduling engine to schedule work out of sequence by ignoring the logic and taking into account the Start and Finish Dates set by the user.
To access the Progress Override setting, first click on Schedule button (or press F9) and then the Options tab in the Schedule Window.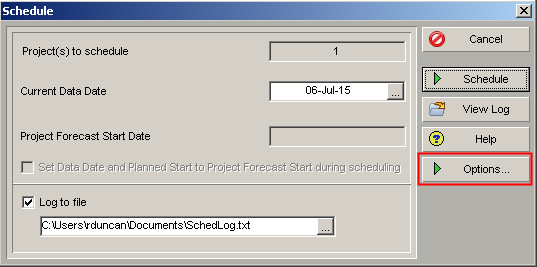 Primavera P6 provides three options for scheduling progressed activities…
Retained Logic
This is the normal scheduling setting and the Primavera P6 scheduling engine does not calculate Remaining Duration until all preceding Activities are complete.
Progress Override
The Progress Override option is used where the Network Logic needs to be ignored, as discussed above.
Actual Dates
The Primavera P6 scheduling engine uses the Actual Dates to calculate early and late dates.
---
…JOIN PRESCIENCEADVANTAGE® PRIMAVERA SUPPORT
A PrescienceAdvantage® Primavera Support agreement is flexible, scalable and value driven. It offers functional and technical Oracle Primavera assistance, delivered remotely or on-site. Find out more about setting up a Support Agreement for your site, or call us on 1300 086 816.