In last month's newsletter we discussed the Oracle Primavera P6 Scheduling Options of Retained Logic compared to Progress Override, and discovered how to use the Progress Override setting to progress work out of sequence.
This month, we look at another Scheduling Option available in Oracle Primavera P6, Multiple Float Paths.
Top Tip #1: Setting Multiple Float Paths
The Critical Path is the series of Activities that determines the end date of the Project and is defined as the Longest Path, or by Total Float. In most Projects, simply knowing the current Critical Path is not always enough. In a successful project, it is important to be prepared for delays that may occur on the critical path, and to determine what work can be conducted in the meantime. Using the Multiple Float Path options in the Scheduling Advanced tab gives the user the opportunity to look at other possible float paths.
Multiple Float Paths

Multiple Float Paths show the other possible paths to the end of the Project that are not on the Critical Path and have Positive Float. In the above picture there are two float paths. Below there are three possible float paths.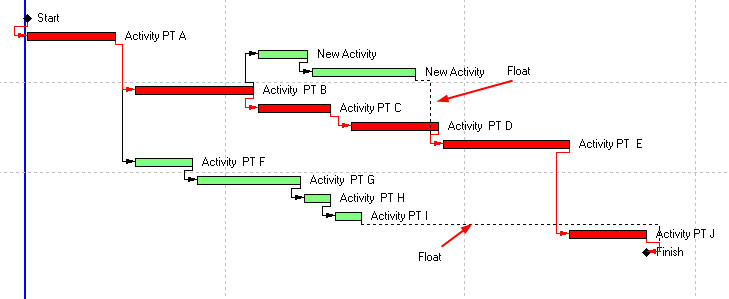 ---
…JOIN PRESCIENCEADVANTAGE® PRIMAVERA SUPPORT
A PrescienceAdvantage® Primavera Support agreement is flexible, scalable and value driven. It offers functional and technical Oracle Primavera assistance, delivered remotely or on-site. Find out more about setting up a Support Agreement for your site, or call us on 1300 086 816.