In this month's newsletter, we will examine how to Resource Level across multiple Projects within Maintenance Planning schedule.
Priority of the execution of small repetitive blocks of work or Projects can change rapidly in some organisations. Oracle Primavera P6 can resolve execution priorities quickly to ensure that the required execution sequence is implemented.
Top Tip #1: Using Project Levelling Priority
In this second newsletter edition on Resource Levelling, we will look at Levelling multiple Projects to ensure required execution sequences can be achieved without overloading Resources.
How To:
Follow these steps to level Resources in multiple Projects.
Step 1: Log into Primavera P6 and open the Projects that need to be sequenced for execution.
Step 2: Click on the "Projects" tab and set the desired priority for executing the projects. Inserting the "Project Levelling Priority" column makes it easy to update these settings.

Step 3: Click on the "Activities" tab, then click the "Resource Levelling" icon in the Toolbar.
Step 4: Set the following up in the Level Resources window.
a) Tick "Preserve schedule early and late dates"
b) Tick "Level all resources"
c) Click "Add" in the "Levelling priorities" section and select "Project Levelling
Priority"
d) Click "Add" again and select "Activity Levelling Priority"
e) Ensure "Log to file" is ticked.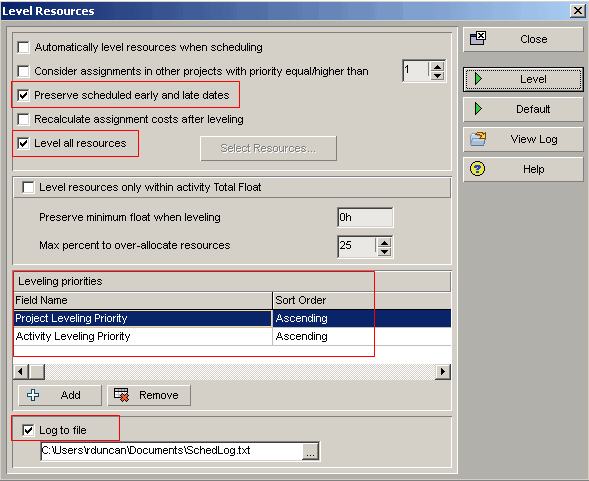 Note! the Resource loading before Levelling.

Step 5: Click on the "Level" button in the Level Resources window.
Step 6: See the Resource loading after Levelling.
---
…JOIN PRESCIENCEADVANTAGE® PRIMAVERA SUPPORT
A PrescienceAdvantage® Primavera Support agreement is flexible, scalable and value driven. It offers functional and technical Oracle Primavera assistance, delivered remotely or on-site. Find out more about setting up a Support Agreement for your site, or call us on 1300 086 816.