In this month's newsletter, we will examine the Global Change function.
Global Changes can be a very powerful addition to the Planners toolkit to quickly and effectively make changes in a single project or multiple projects. Global Change can make changes to a Project that may be difficult to undo so as a precaution you should always test the Global Change on a Reflection Project first. Global Changes can be used in three Activities functional areas; Activities data, Activity Resource Assignments and Project Expenses.
Below is a simple process to follow when creating and using Global Changes which will ensure that your Production Projects do not end up with erroneous data updates.

Top Tip #1: Global Change Activity Resource Assignments
Using Global Change on Activity Resource Assignments can make changes  quick  and easy.  In  this  newsletter  we  will  demonstrate how to exchange a single Resource in a Project.
How To:
Follow these steps to create an Activity Resource Assignment Global Change:
Step 1: Log into Primavera P6 and open the Project that requires changes to Resource Assignments.

Note! To  use  this  type  of  Global  Change  with  Reflection Projects, the following Project Resources setting must be  unchecked: 'Resources can be assigned to the same activity more than once'.

Step 2: Create a 'Reflection Project' to test the Global Change on, and open the Reflection Project.

Step 3: Click 'Tools' and select 'Global Change'.
Note! This Project has a Baseline Assigned and the change is restricted to one WBS.
Step 4: In the Global Change window select 'New'.

Step 5: In the Modify Global Change Window:
a) In the 'Select Subject Area', select 'Activity Resource Assignments' and then type the 'Global Change Name'.
b) Click in the 'If' section and then click the 'Add' button.
c) In  the 'If' Parameter cell select 'WBS' and in the 'Is' cell set 'equals'.
d) In the 'Value' Cell select the 'WBS' from the pop up window and click the green 'Select' button.
Note! The 'Where' statement in the 'If' section, when used, will restrict any change to the selected criteria, in this case  a  single  WBS.  If  you  leave  the 'Where' section blank, then P6 will apply the change to all Activities in the Project.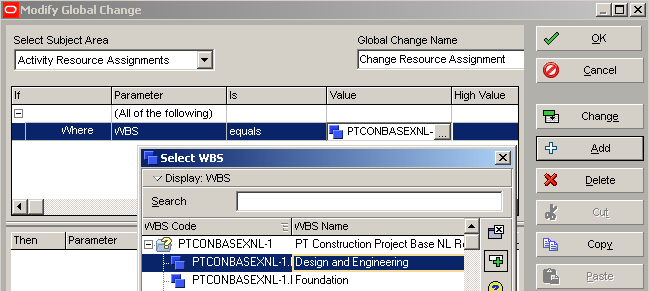 ---
…JOIN PRESCIENCEADVANTAGE® PRIMAVERA SUPPORT
A PrescienceAdvantage® Primavera Support agreement is flexible, scalable and value driven. It offers functional and technical Oracle Primavera assistance, delivered remotely or on-site. Find out more about setting up a Support Agreement for your site, or call us on 1300 086 816.