What's new in P6 16.2?
At a glance
Unfortunately for P6 Professional users, apart from some overall performance enhancements, the new enhancements of 16.2 focus entirely on the web based Primavera P6 EPPM version of the software.
The main development focus has been the continued replacement of Java-based applets with pages written in HTML5. The HTML5-based pages are collectively referred to as the "Standard View". The Standard view is enabled by default in P6 16.2, but the old Java-based pages are still available under the "Classic View".
A host of new HTML5 pages have been added or enhanced to bring the functionality of the Standard View closer to that of the Classic View. The result is a much more responsive user experience with the faster loading HTML5 pages and a reduced reliance on the old Classic View. Ultimately, this means you will be able to work faster and save time switching between views to access advanced features.
Not only do the new pages load faster, they do not require additional plug-ins, thus eliminating issues with Java performance and updates, backward incompatibility and security. Pages that have been updated to HML5 include:
Administration Section

Enterprise Data
User Access

Dashboard Section

Timesheet Approvals
Gantt Chart Portlet

Project Section

Issues
Team Usage
Documents
(i) The existing EPS Page Standard View has been enhanced with more features that were previously only available in the Classic View – including the ability within the grouping options to hide a group if it is empty.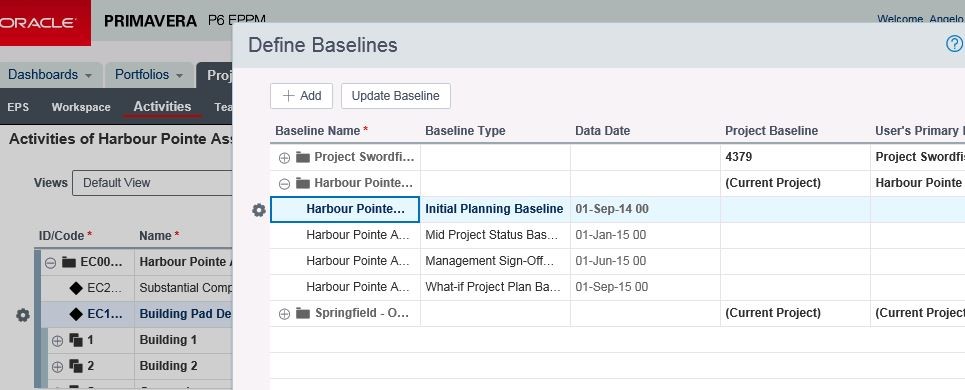 (i) The existing Activities Page Standard view has also been enhanced – including the addition of the Update Baselines function.
Top Tip: Is it worth upgrading to P6 16.2?
The number one reason to upgrade your P6 version to Release 16.2, is to take advantage of P6 Web, which has become much faster with the addition of a host of new HTML5 pages that have been added or enhanced to bring the functionality of the Standard View closer to that of the Classic View.
When using P6 Web to report or present a schedule to a manager, you will now be less likely to be plagued with the inevitable Java problems most schedulers have encountered in the past. Another reason to upgrade is to take advantage of Visualizer's improvements, which I compare to having been "given a shot of adrenaline"; working with it is much faster, smoother and has an all-round marked improvement in responsiveness.
__________________________________________________________________________________________________
…JOIN PRESCIENCEADVANTAGE® PRIMAVERA SUPPORT
A PrescienceAdvantage® Primavera Support agreement is flexible, scalable and value driven. It offers functional and technical Oracle Primavera assistance, delivered remotely or on-site. Find out more about setting up a Support Agreement for your site, or call us on 1300 086 816.