The team at Prescience Technology would like to wish all of our valued clients a Happy New Year. We start 2016 by examining some of the Team Member application's new enhancements. The P6 Team Member suite of applications, which integrate seamlessly with Primavera P6 EPPM R15, are designed for individual users, or team members, to record the status of their tasks without the need to learn an enterprise project management application.
Team Member is of great benefit to field operators within the Mining or Construction Industries who need to regularly update their progress to enable their managers and engineers to track movements from within their offices. The P6 Team Member applications include an iOS App, an Android App and a Web App. These applications provide quick, convenient and easy access to assign tasks using the platform or device that best suits the way your team works.
Touch- Enabled Usability
Team Member users out in the field constantly found it cumbersome to use mouse operated hardware to update their progress, especially in harsh environments. In keeping with the times and accommodating the needs of these users, Oracle has added usability enhancements for touch screen devices to Team Member 15.1.
Using the same credentials from Team Member Web, you can now use your touch screen device to log into P6 Team Member. The same features and functionality from Team Member Web have been optimised for use on touch screen devices. We are excited about this new functionality because it removes the need for laptops or mouse operated hardware out in the field once and for all, and allows the field operators to use Team Member to update progress with ease.
THE SUPER SEVEN NEW FEATURES OF P6 TEAM MEMBER
We've ranked the top seven new features of Team Member according to how much benefit each feature adds to the application and whether any significant improvement has been made on previous functionality. Scroll down for a detailed overview of each feature.
Below: The updated Team Member interface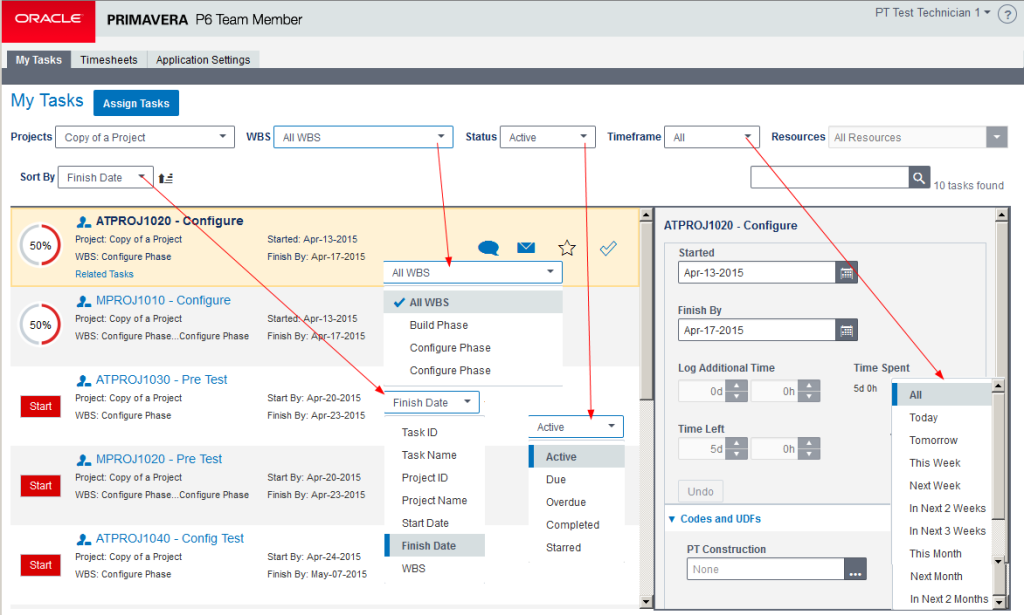 ---
1. Mark a Completed Task back to In-Progress
Our top rated enhancement in Team Member 15.1 allows you to remove Actual Finish dates from completed tasks. The reason this enhancement takes the top spot is that, in previous versions, marking a task complete would add an Actual Finish date to the task and, while the Finished field was editable, you could not continue to log additional time worked. This limitation severely restricted your ability to accurately log time worked within an activity, given that, realistically, additional time worked often needs to be logged after a task has been marked as complete.
In Team Member 15.1, click the check mark of a completed task to return it to an In-Progress state. You can then edit the Finish By field and continue to record progress, contribute to discussions, update steps, and assign codes and UDFs.
Note: You may need to amend your filters to be able to see a previously completed task back as an In-Progress task.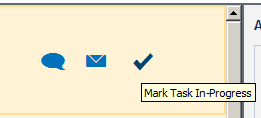 Note: After saving and Marking a Task as In-Progress, the task reverts to not Started.

---
2. Assign Yourself to an Existing Task
In the latest release of Team Member 15.2, if you worked on a task to which you have not yet been assigned, click the Assign Tasks button on the My Tasks page to assign yourself as a resource to the task. This new enhancement removes the waiting period for being assigned to a task, which is a significant improvement given that you can only report time on tasks to which you are assigned.
Select a project, and then select one or more tasks to add to your My Tasks list.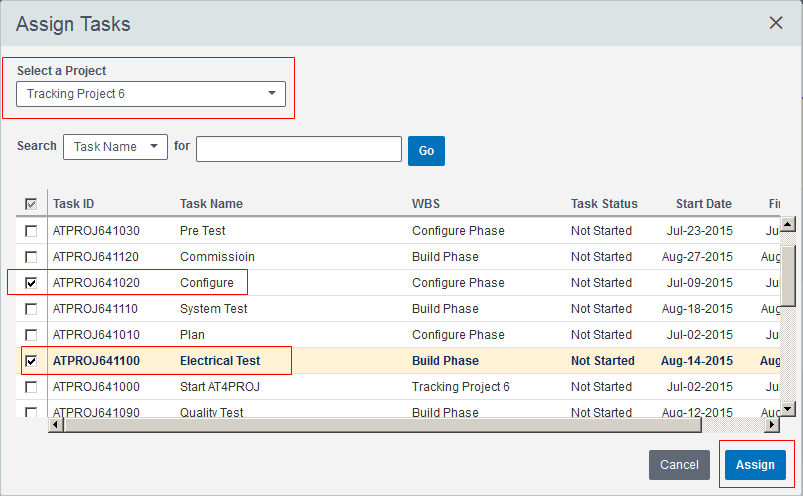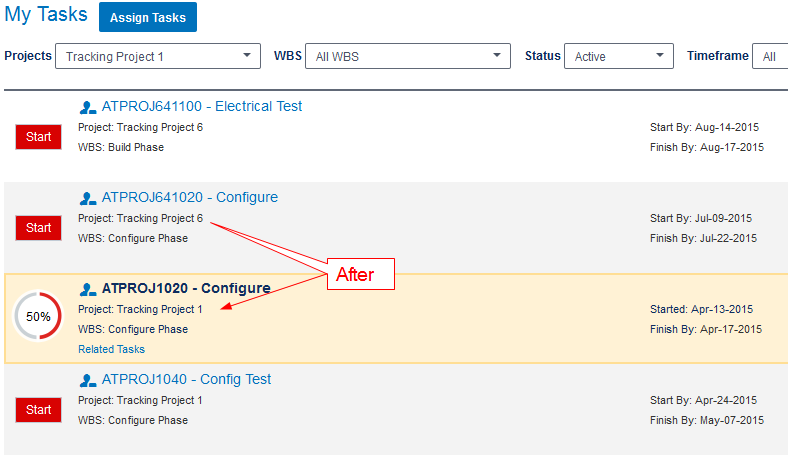 ---
 3. Filter by Resource More Efficiently
Team Member 15.1 has added the ability to filter the list of primary resources by entering text in the Resources filter. This feature makes selecting a primary resource quicker and easier, especially when previously looking for a resource may have taken significant time if the list of primary resources was large, as is often the case.
Click the Resources list and enter text to filter the results as you type. To select multiple resources, Ctrl+Click names in the filtered list.

---
 4. New Duration Field Units
Additional unit and duration format options have been added to Team Member 15.1. Enter and view time in hours or days, as well as the previously existing Hours/Minutes and Days/Hours formats. This new ability to enter and view time in hours or days allows operators to status tasks in a variety of ways. When selecting the Hours or Days format, specify the number of decimal places, between 0 and 2. Values entered for these formats are rounded according to the set number of decimal places.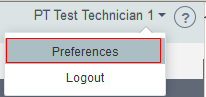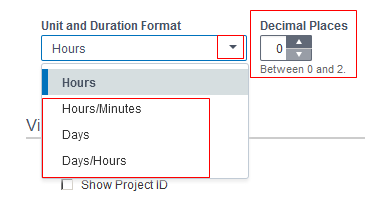 ---
5. Indicator Icons
In Team Member, one user can be assigned to a task multiple times – as a resource assignment, activity owner, or a primary resource – causing the same task name to appear more than once in the application. To help distinguish between tasks, new indicator icons have been added to the Task Details. Place the mouse over the icon to see if the task is a Resource Assignment Record or Activity Owner Record. The Activity Owner Record icon is shown when the user is either an activity owner or a primary resource.

---
6. Toggle Task Detail Information
This new feature allows you to toggle the display of Project Name, Project ID, and Project WBS information for the Task Details found in the My Tasks and Timesheets views. This enhances your ability to view your tasks according to your own personal preferences.
In the Preferences view, choose any combination of the fields to display. These preferences only apply to each user's instance of Team Member.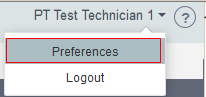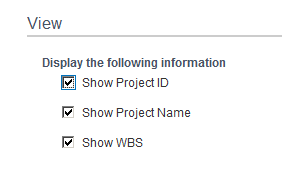 ---
7. Filter Tasks by WBS
The final new enhancement on our list allows the use of the WBS filter to further refine the list of tasks on the My Tasks page. This reduces the large number of tasks visible, and allows you to quickly focus on the required tasks only.
 Select a project in the Projects filter and then select one or more WBS nodes for the tasks that you want to display.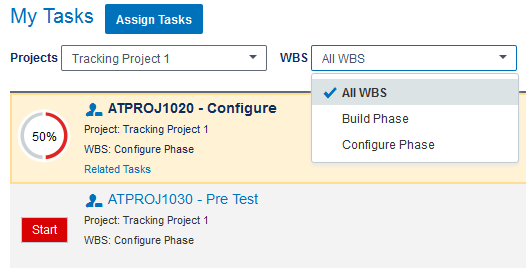 ---
…JOIN PRESCIENCEADVANTAGE® PRIMAVERA SUPPORT
A PrescienceAdvantage® Primavera Support agreement is flexible, scalable and value driven. It offers functional and technical Oracle Primavera assistance, delivered remotely or on-site. Find out more about setting up a Support Agreement for your site, or call us on 1300 086 816.